Kelowna, British Columbia–(Newsfile Corp. – May 15, 2023) – Enertopia Corporation (OTCQB: ENRT) and (CSE: ENRT) ("Enertopia" or the "Company") a company focused on building shareholder value through a combination of our Nevada lithium claims, intellectual property, and pending patents in the green technology space, is very pleased to provide the following lithium project update.
We are happy to report the final assay results from the last 7 holes of our 12-hole 2023 drilling program at our WT Project just west of Tonopah, NV. This year's drilling program has confirmed two areas of the higher-grade mineralization have been successfully expanded upon from last year's inaugural drilling program.
DH23-02, was a 600 foot, step out to the east from DH23-01. And returned 184 feet of 828 ppm Li, with the EOH value running 1,040 ppm. This zone remains open to the east, west and south and at depth.
Drill holes DH23-10 and DH23-11 confirmed that a large area of higher-grade mineralization, covering the Southwest part of our project, remains open to the south and west and at depth. Both holes have multiple intervals running above 1,000 ppm Li each.
Below is the drill assay table for the assay results reported today in order of drilling completion.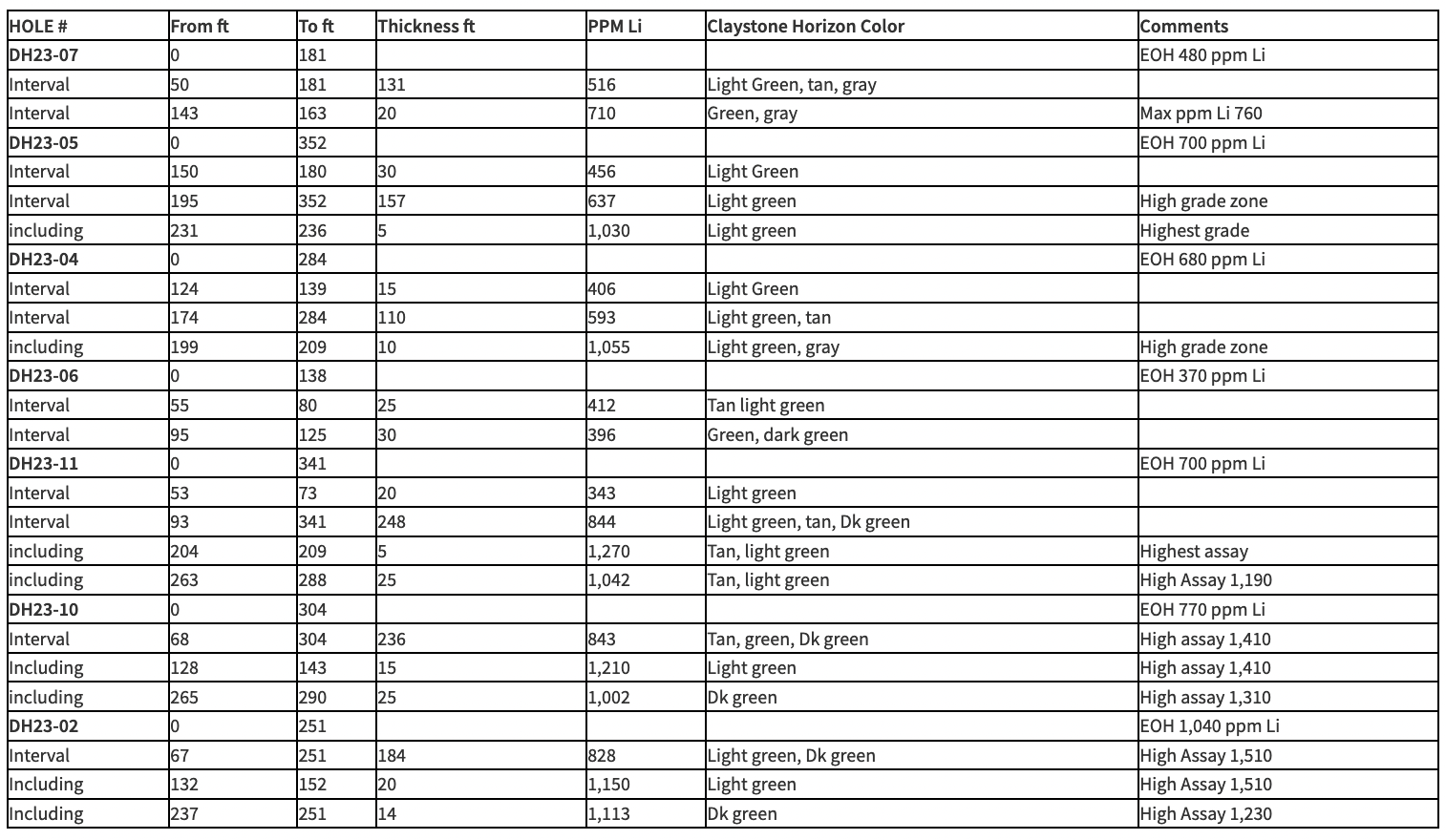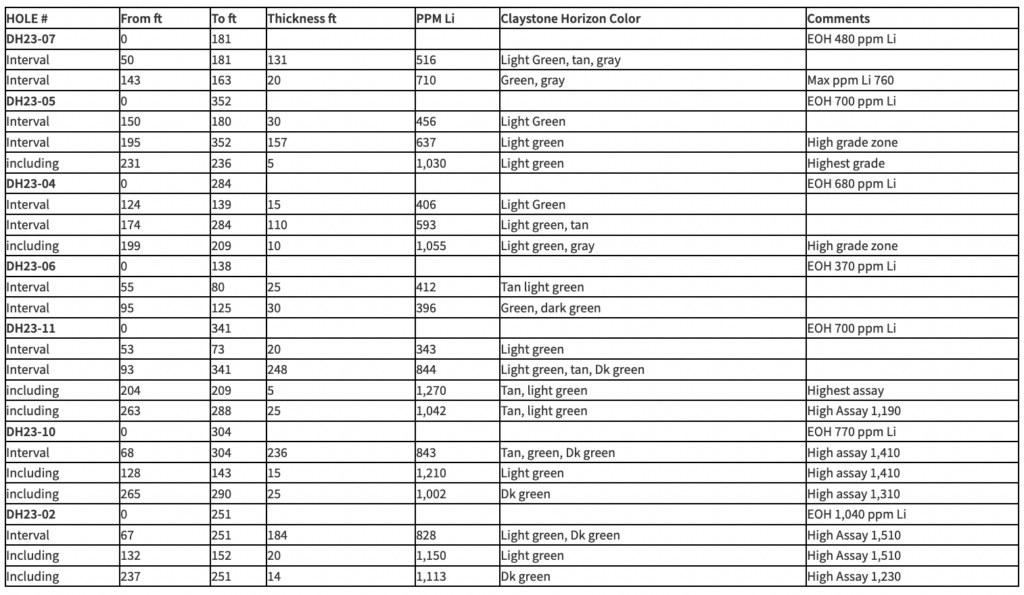 NOTE: All above intervals used a minimum 300 ppm Li cutoff grade. (EOH) means end of hole.
Summary from the above drill holes released today:
DH23-07 was drilled 1,250 feet SSW of DH23-05 and 1,175 feet NNE of DH23-08, to confirm the potential of the widespread Li mineralization. Due to time constraints on the drilling program this hole was drilled to a depth of only 181 feet. The shallow drilling has confirmed the Li mineralization from 50 feet to the EOH at 181 feet the Li horizon averaged 516 ppm Li.
DH23-05 was drilled on a line between DH23-04 and DH23-07 and a line between DH23-06 and DH23-11. This hole was a deeper test hole drilled to 352 feet, with a 157-foot interval averaging 637 ppm Li and the EOH averaging 700 ppm Li.
DH23-04 was drilled 1,000 feet NE from DH22-10 and 1,000 feet SSW from hole DH22-08 to test the mineralized continuity and depth of mineralization between the two holes drilled last year. It confirmed the Li claystone is widespread and still open at a depth of 284 feet at a grade of 680 ppm Li. Two intercepts of over 1,000 ppm were intersected in this hole in the interval from 199 – 209 feet.
DH23-06 was drilled 975 feet east of DH23-05 to test for the eastern extent of the higher-grade part of the deposit. Lower Li grades and the amount of Ash and tuff could indicate the depositional lagoon margin.
DH23-11 was drilled 975 feet WSW from hole DH23-05. DH23-11 not only increased the aerial extent of the deposit to the SW but also intercepted the thickest mineralized zone of 248 feet of Li claystone averaging 844 ppm Li with 8 separate zones grading above 1,000 ppm Li. This looks to be one of the first areas for future drilling to add to any future resource numbers.
DH23-10 was drilled 1,000 feet west of DH22-10 drilled last year which returned 70 feet of 831 ppm Li including 1,045 at the EOH. We expected hole DH23-10 to confirm the grades intersected last year with increasing thickness. DH23-10 did not disappoint, returning 7 intercepts over 1,000 ppm Li or higher with a peak value over 5 ft of 1,410 ppm Li inside 236 feet averaging 843 ppm Li.
DH23-02 was drilled 600 feet east from DH23-01 to test the eastern extension of the high-grade zone. It confirmed the Li claystone is widespread and still open at a depth and to the east and south. 6 intercepts of over 1,000 ppm were intersected in this hole in the interval from 67 – 251 feet which returned 813 ppm Li, with the EOH assay at 251 feet being 1,040 ppm Li.
Summary of WT 2023 Drilling Program:
After reviewing the drill data from the 2022 and 2023 drill programs we have come up with the following project understanding:
We have confirmed two areas for future higher grade resource expansion. Area one around drill holes DH22-07, DH23-01, DH23-02 covering a distance of 1,000 feet from west to east, which is open to the west, east, south and at depth.
The second and much larger area of higher-grade material encompasses DH22-04, DH22-10, DH23-04 to DH23-12. This area covers an area 3,900 feet north south and 2,500 feet west to east, which remains open to our western property boundary ~600 feet to the west and our southern property boundary ~1,200 feet to the south.
WT Project Drill Hole Location Map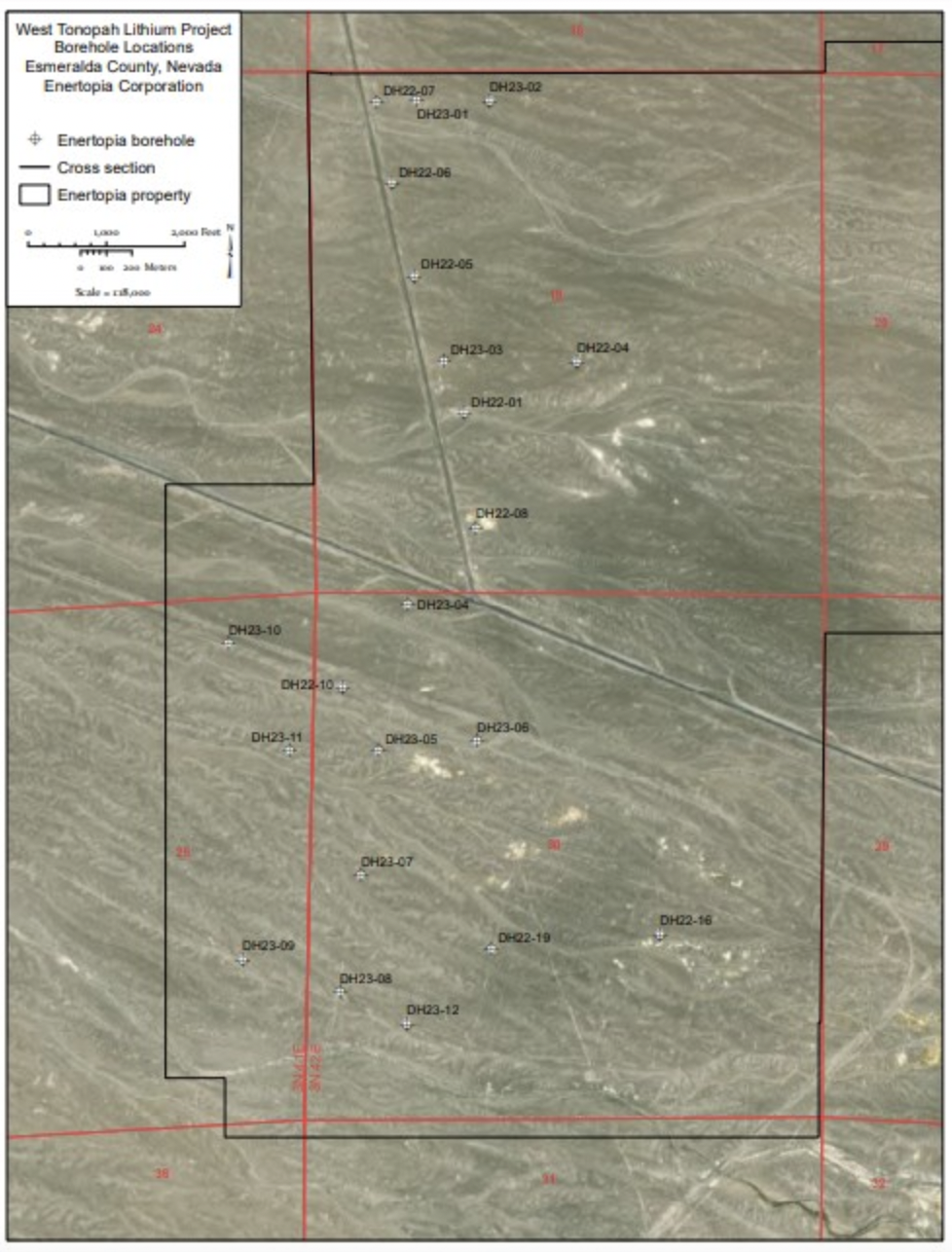 Note: Correction from our May 3, 2023 press release. The drilling summary from DH23-09 should have been reported as. Four intercepts of over 1,000 ppm were intersected in this hole in the interval from 205 – 310 feet.
Inaugural 43-101 report
The company is going through the commissioning process for the writing of an inaugural 43-101 report for the West Tonopah Project, which covers 1,760 acres. We are expecting this report to be completed during the calendar 4th quarter of this year.
"I am extremely pleased with the drill hole data from the 2022 and 2023 drilling programs as we are getting a better understanding of the Lithium claystone deposit. We look forward to a steady stream of news and advancements in 2023 not only from Enertopia but also from other Companies operating in the immediate area as work progresses," stated President Robert McAllister.
For additional project details please visit our website at https://enertopia.com/
The Qualified Person:
The technical data in this news release have been reviewed by Randy Henkle, P. Geol. a qualified person under the terms of NI 43-101.
On April 17th and April 18th, I, Randy Henkle, QP for this project visited the project and observed the drilling and sampling operations at DH23 -02. I also visited the sample storage facility for the project. All drilling and sampling operations that I observed were in compliance with CIMM Best Practice procedures.
All samples were submitted to ALS Global in Reno, Nev., for analysis by ME-ICP61 plus Lithium. standards were inserted into the sample sequences at random intervals.
About Enertopia
Defines itself as an Environmental Solutions Company focused on using modern technology on extracting lithium and verifying or sourcing other intellectual property in the EV & green technologies to build shareholder value.
Enertopia shares are quoted in the United States and Canada under ticker symbol ENRT. For additional information, please visit www.enertopia.com or call Robert McAllister, the President at 1-888-ENRT201.
This release includes forward-looking statements within the meaning of Section 27A of the Securities Act of 1933, as amended, and Section 21E of the Securities Exchange Act of 1934, as amended. Statements which are not historical facts are forward-looking statements. The Company makes forward-looking public statements concerning its expected future financial position, results of operations, cash flows, financing plans, business strategy, products and services, potential and financing of its mining or technology projects, growth opportunities, plans and objectives of management for future operations, including statements that include words such as "anticipate," "if," "believe," "plan," "estimate," "expect," "intend," "may," "could," "should," "will," and other similar expressions that are forward-looking statements. Such forward-looking statements are estimates reflecting the Company's best judgment based upon current information and involve a number of risks and uncertainties, and there can be no assurance that other factors will not affect the accuracy of such forward-looking statements., foreign exchange and other financial markets; changes in the interest rates on borrowings; hedging activities; changes in commodity prices; changes in the investments and expenditure levels; litigation; legislation; environmental, judicial, regulatory, political and competitive developments in areas in which Enertopia Corporation operates. There can be no assurance that the drilling will result in an economic deposit or have any positive impact on Enertopia. There can be no assurance that the four pending patents will become patents and have a positive impact on Enertopia. The User should refer to the risk disclosures set out in the periodic reports and other disclosure documents filed by Enertopia Corporation from time to time with regulatory authorities.
The OTC and CSE have not reviewed and does not accept responsibility for the adequacy or accuracy of this release.