Clayton Valley Lithium Project
Enertopia Corporation is an exploration and development company, which is employing modern technology to be able to produce battery-grade lithium carbonate from brines or the creation of a synthetic brine from the company's lithium project in Clayton Valley, Nevada, U.S.
The Company acquired a land position by staking 8 placer mining claims (the Steve claims) and 9 lode mining claims (the Dan claims). The land package covers 160 acres (65 hectares) of ground in the Clayton Valley of Nevada. The claims were staked in July of 2017 in a strategic location between Noram Ventures Incorporated's Zeus claims and Cypress Development Corporation's Dean claims.
The perimeter of Enertopia's claims are located within 1.3 miles (2.1 km) of Albemarle Corporation's (Albemarle's) Silver Peak lithium brine operations. Albemarle's operations have been the sole source of domestic lithium for more than 50 years.
Enertopia holds the claims free and clear with the exception of two, separate 1% NSR royalties held by third parties.
The company released its maiden 43-101 resource report in 2020 showcasing an indicated resource of 469,115 tonnes and inferred resource of 106,186 tonnes of Lithium Carbonate Equivalent (LCE) at a resource cutoff grade of 700 ppm Lithium.
Phase one of core drilling in 2018 provided the basis for Enertopia's maiden 43-101 resource estimate, which was released in the Spring of 2020. The lithium assays from the drilling provide results that are reasonably consistent over the Enertopia claim group. The model generated for the indicated and inferred mineral resource estimate extend to the property boundaries on all sides.
The Company is focused on using and developing clean energy solutions for the development and production of ESG responsible domestic Lithium production in the USA.
We invite you to follow along as technological innovation moves Lithium to an increasingly important role in our evolving energy world.
Drilling commenced on Enertopia's initial drilling program on December 8, 2018 and was completed on December 18, 2018.
Five core holes were drilled with BQ-size core. Four of the holes were for exploration and the fifth one was to be used for metallurgical testing. Figure 10.1 shows the locations of the drill holes within the Enertopia land position. The figure also gives the coordinates of each drill hole. Drill hole TOP-02M is the hole drilled to use for metallurgical testing. TOP-02M is located approximately 20 feet (6 m) to the northeast of TOP-02.
Table 10.1 contains the coordinates, depths and core recovery of the 4 drill holes. The horizontal coordinates were obtained using a Garmin handheld GPS unit (Sincere, 2018). The collar elevations were taken from Google Earth at the coordinate locations. No downhole surveys for hole deviation were taken because of the relatively shallow drilling depths.
| | UTM | UTM | Collar Elev. | Depth | Recovery |
| --- | --- | --- | --- | --- | --- |
| Hole ID | East | North | (m) | (m) | (%) |
| TOP-01 | 455076 | 4179522 | 1375 | 89.0 | 69.7 |
| TOP-02 | 455046 | 4179949 | 1367 | 93.6 | 65.0 |
| TOP-03 | 454874 | 4179154 | 1375 | 110.3 | 78.5 |
| TOP-04 | 454805 | 4180310 | 1355 | 90.5 | 85.2 |
| Average | | | | 95.9 | 74.7 |
Enertopia Indicated and Inferred Mineral Resources.
Indicated Mineral Resource
| | 400 ppm Li Cutoff | 700 ppm Li Cutoff | 1000 ppm Li Cutoff | 1200 ppm Li Cutoff |
| --- | --- | --- | --- | --- |
| Tonnage | 81,732,150 | 75,951,000 | 59,534,100 | 34,478,100 |
| Average Grade | 1121 | 1160 | 1247 | 1346 |
| Contained Li (kg) | 91,656,383 | 88,129,744 | 74,225,389 | 46,424,369 |
| LCE (Tonnes) | 487,887 | 469,115 | 395,102 | 247,117 |
Inferred Mineral Resource
| | 400 ppm Li Cutoff | 700 ppm Li Cutoff | 1000 ppm Li Cutoff | 1200 ppm Li Cutoff |
| --- | --- | --- | --- | --- |
| Tonnage | 18,165,600 | 17,252,100 | 15,999,300 | 8,913,150 |
| Average Grade | 1131 | 1156 | 1170 | 1196 |
| Contained Li (kg) | 20,554,207 | 19,948,516 | 18,719,880 | 10,664,088 |
| LCE (Tonnes) | 109,410 | 106,186 | 99,646 | 56,765 |
Above photo shows sample from drill hole TOP-03 of high- grade Lithium core from reduced zone with an 15 foot interval that graded 1,770 ppm Lithium.
Enertopia has been conducting lithium extraction testing since 2016, beginning with bench tests on lithium-bearing sediments from Clayton Valley and other sources.
Soon after the claim staking and initial sampling on their claims in 2017, the Company began bench testing extraction methods using surface samples from their Clayton Valley property.
Testing in late 2017 and early 2018 on samples from the property was able to remove nearly all of the magnesium from synthetic brines using high pH (11.0) solutions. The removal of magnesium from the solutions at relatively low cost could be a significant step toward commercial lithium production from claystone deposits. But the testing was not able to achieve the 99.5% LiCO3 purity necessary for use in lithium ion battery production.
In 2019 the Company focused on testing materials obtained from the December 2018 drilling program (Section 10 - Drilling), testing the oxidized and reduced zones found in the core.
Much of the testing involved determining how beneficial it would be to remove coarser grain sizes from the material prior to processing. It was found that the coarser fraction contained very little lithium as opposed to the finer fraction. Sorting of the materials was also found to be enhanced by sorting wet fractions, rather than dry. Further testing using techniques to pre-strip the material of impurities prior to processing has yielded significant results without significantly affecting the lithium levels in the test material.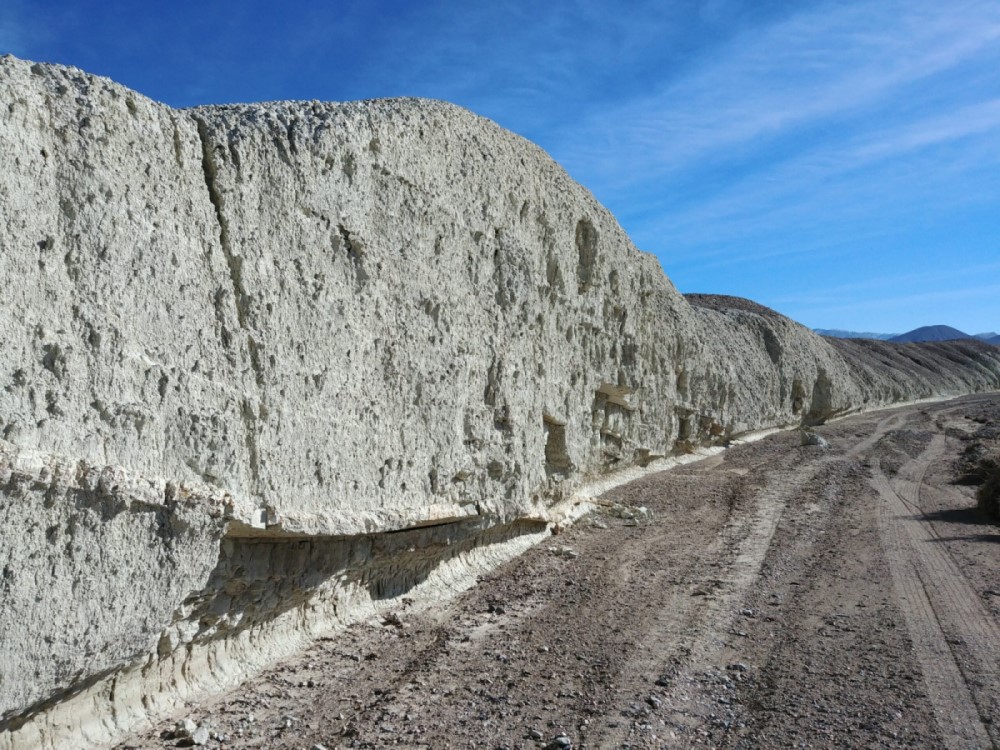 An arroyo near the NE corner of our project shows a 20ft outcrop of the Esmeralda formation
The Enertopia claim block and surrounding area are part of a much larger area that drains the adjacent mountain range to the southeast.
The area gently slopes toward the northwest. The drainages, or washes, cut through the Tertiary Esmeralda Formation. The Esmeralda in this area is made up of fine grained sedimentary and tuffaceous units which generally dip to the northwest, but while the strike and dip can be quite varied locally, most of the sediments dip at less than 5°. Some local bedding undulations have been noted, possibly caused by differential compaction.
Faulting was also noted in some zones, mostly in the area north of the claims.
The faults appear to trend at N30oE to N45oE, approximately parallel to the edge of the playa in this part of Clayton Valley. Faulting can be difficult to trace on surface in most areas due to the homogeneity and semi-consolidated nature of the sediments. Figure 7.3 shows one of the relatively rare instances where faulting is evident at surface on an adjacent property holder's claims. In addition to ancient faulting, recent faults are in evidence around the basin that have formed as a result of subsidence from pumping brines from the aquifers over the past 50+ years to produce lithium.
The resulting topographic configuration consists of long rounded "ridges" of Esmeralda Formation separated by gravel filled washes. The ridges were generally 50 feet (15 meters) to 100 feet (30 meters) wide and had lengths of a few hundred to a few thousand feet and trend northwest. These geomorphic features have been described by some authors (Davis, 1981 and Kunasz, 1974) as a "badlands" type topography.